my first haircut
26cm h x 27cm w x 23cm d
A doll-based work, using three arms from different dolls and a porcelain head. The small birdcage ties it all together. I made it at the time my little boy had his first haircut. A lock of his hair from that visit to the barber sits in the palm of one of the hands.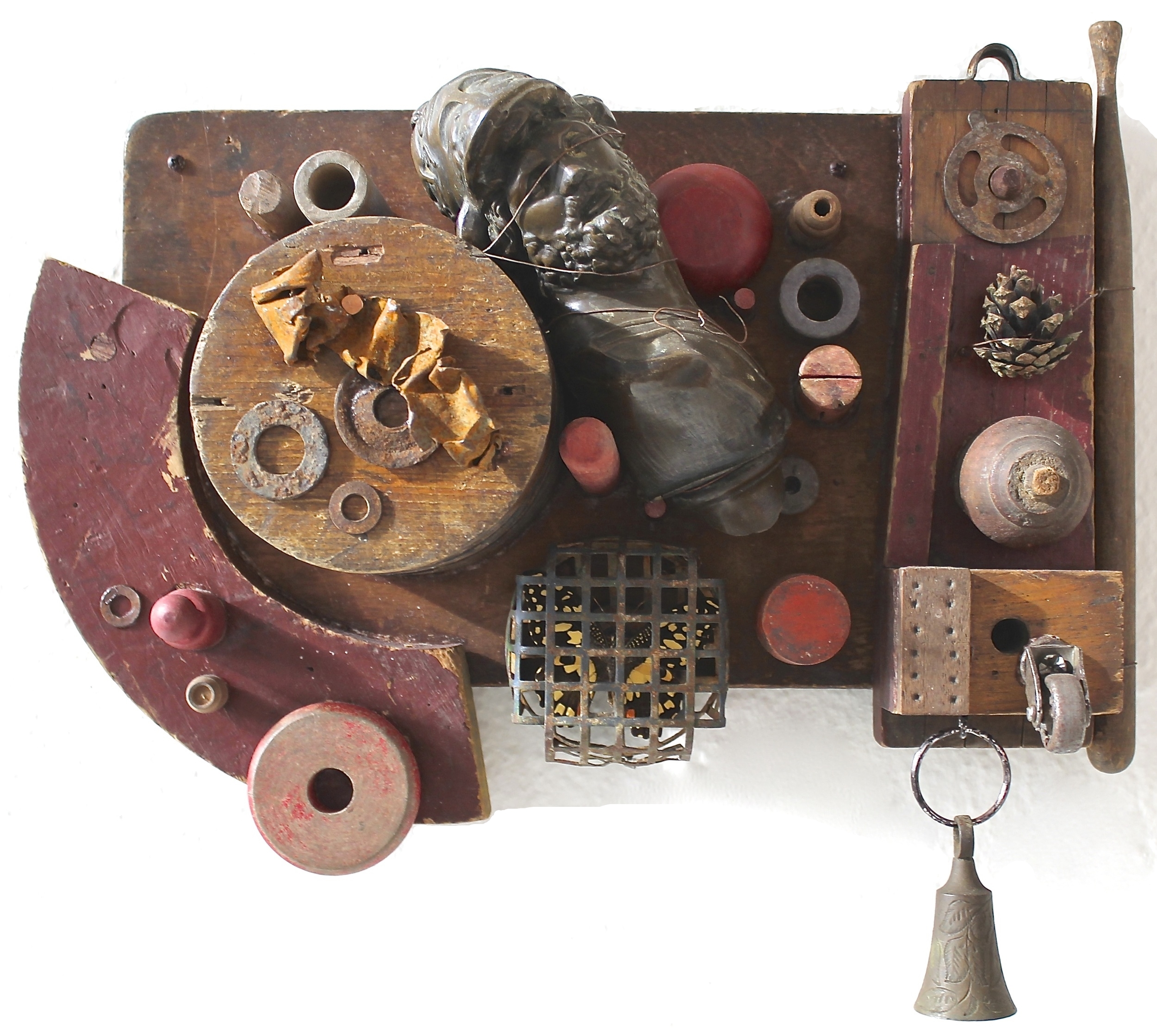 the last hurrah
32cm h x 29cm w x 23cm d
There was a sketch in the TV comedy show Portlandia called 'Put a bird on it' that made me laugh when I saw it. It highlighted how current craftspeople have a tendency to use the go-to solution of placing a bird motif as a central design on t-shirts, cups or whatever. I know I have been guilty of that in my work, so I have to think twice about it these days.
Still though, there are few things in life as beautiful as a bird. Even a dead one. And look, this one can rock!
the mighty
22cm h x 30cm w x 6cm d
An assemblage work created whilst living in London, England. The title 'The Mighty' comes from a detail in the song sheet lining this box, a Victorian hymn; "He Hath Put Down The Mighty'. The box as a whole has a diptych format in the use of the hinged box, another nod to religion, a recurring theme in my work. Even the bird skull suggests a reflection on mortality. The elements are mostly culled from London flea markets and feathers and leaves found on the streets. The melancholic theme aims to transcend the common-day, cast-aside objects into one of poetic beauty whilst avoiding artifice and pretension.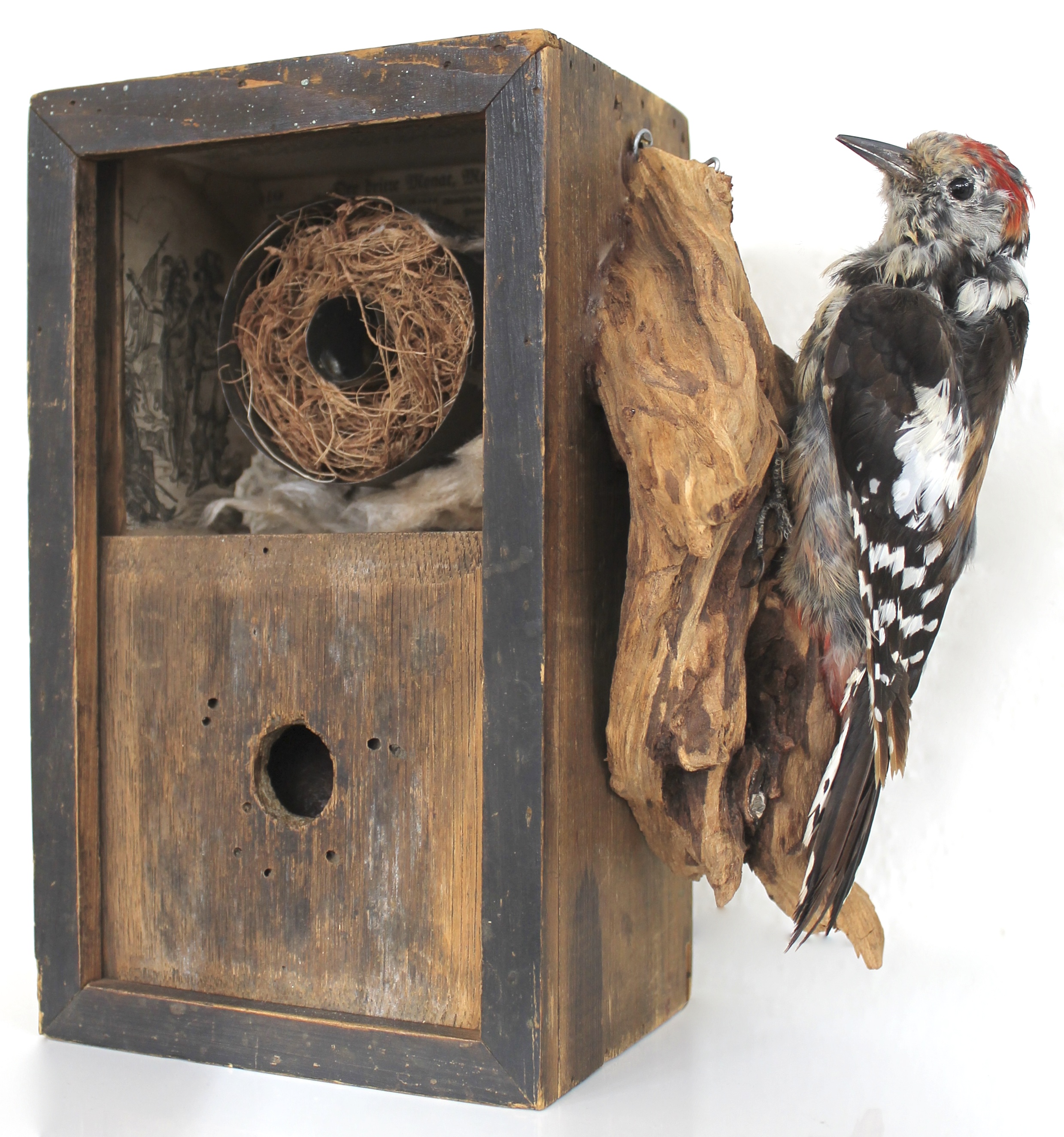 either/or
49cm h x 12cm w x 11cm d
I didn't know it when I acquired it, but the box for this work was an antique ballot box. The top slides from one half to the other. You would drop a ball in the favored half to register your vote. In the half that is covered here there is a wooden egg shape surrounded by straw and old keys. The viewer has the option to alternate whether he is viewing the top or bottom half (hence the title 'either/or.) The stuffed woodpecker renders it asymmetrical.
the owl sanctuary
18cm h x 17cm w x 4cm d
This piece is more typical of my work whilst living in London. They were mostly contained within boxes and had a more dominant Victorian vibe. Some of it was determined by what elements I could readily lay my hands on there, some of it by still being new at my craft. It has evolved somewhat over the years. I've escaped the tyranny of the box.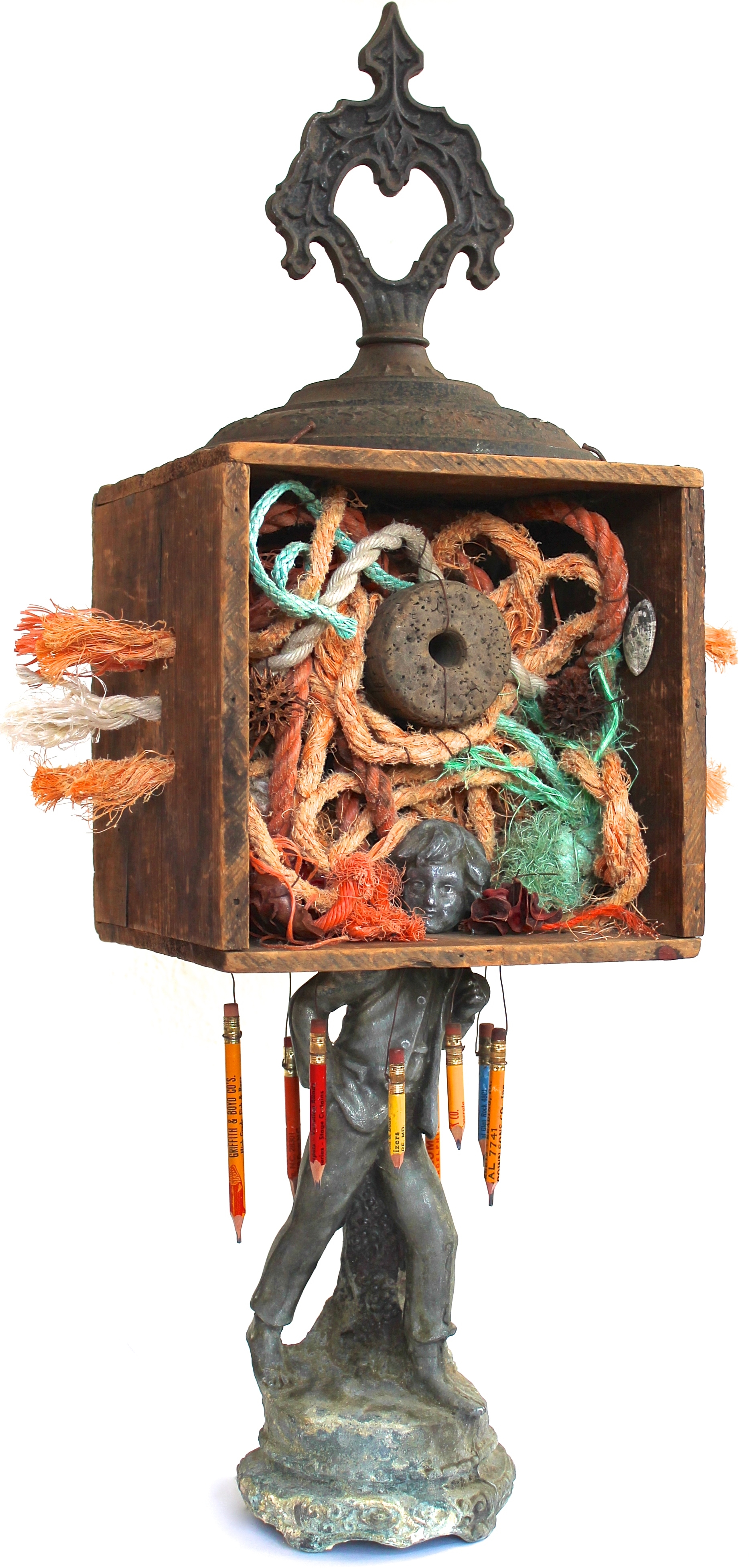 the lightbulb moment
draw nigh to god
52cm h x 19cm w x 13cm d
Assemblage is an artistic process. In the visual arts, it consists of making three-dimensional or two-dimensional artistic compositions by putting together found objects. In literature, assemblage refers to a text "built primarily and explicitly from existing texts in order to solve a writing or communication problem in a new context".The origin of the artform dates to the cubist constructions of Pablo Picasso c. 1912-1914.The origin of the word (in its artistic sense) can be traced back to the early 1950s, when Jean Dubuffet created a series of collages of butterfly wings, which he titled assemblages d'empreintes. However, both Marcel Duchamp and Pablo Picasso had been working with found objects for many years prior to Dubuffet. They were not alone. Russian artist Vladimir Tatlin creates his "counter-reliefs" in the middle of the 1910s. Alongside Tatlin, the earliest woman artist to try her hand at assemblage was Elsa Von Freytag-Loringhoven, the Dada Baroness. In addition, one of the earliest and most prolific was Louise Nevelson, who began creating her sculptures from found pieces of wood in the late 1930s.
In 1961, the exhibition "The Art of Assemblage" was featured at the New York Museum Of Modern Art. The exhibition showcased the work of early 20th-century European artists such as Braque, Dubuffet, Marcel Duchamp, Picasso, and Kurt Schwitters alongside Americans Man Ray, Joseph Cornell, Robert Mallary andRobert Rauschenberg, and also included less well known American West Coast assemblage artists such asGeorge Herms, Bruce Conner and Edward Kienholz. William C Seitz, the curator of the exhibition, described assemblages as being made up of preformed natural or manufactured materials, objects, or fragments not intended as art materials.
archive
assemblage art by mike bennion