and no birds sing
45cm h x 36cm w x 16cm d
The title is a line from a John Keats poem - La Belle Dame sans Merci. The theme of death was a constant for poets back in the day.
No one reads poetry anymore.
all things must pass
54cm h x 23cm w x 14cm d
After a long barren spell of many months, this piece led me back into the habit of making art again. I had begun to feel like a striker being unable to score a goal. Then two elements sat happily together and I was away again. As it turned out this one came together very quickly. Why can't it always be this way?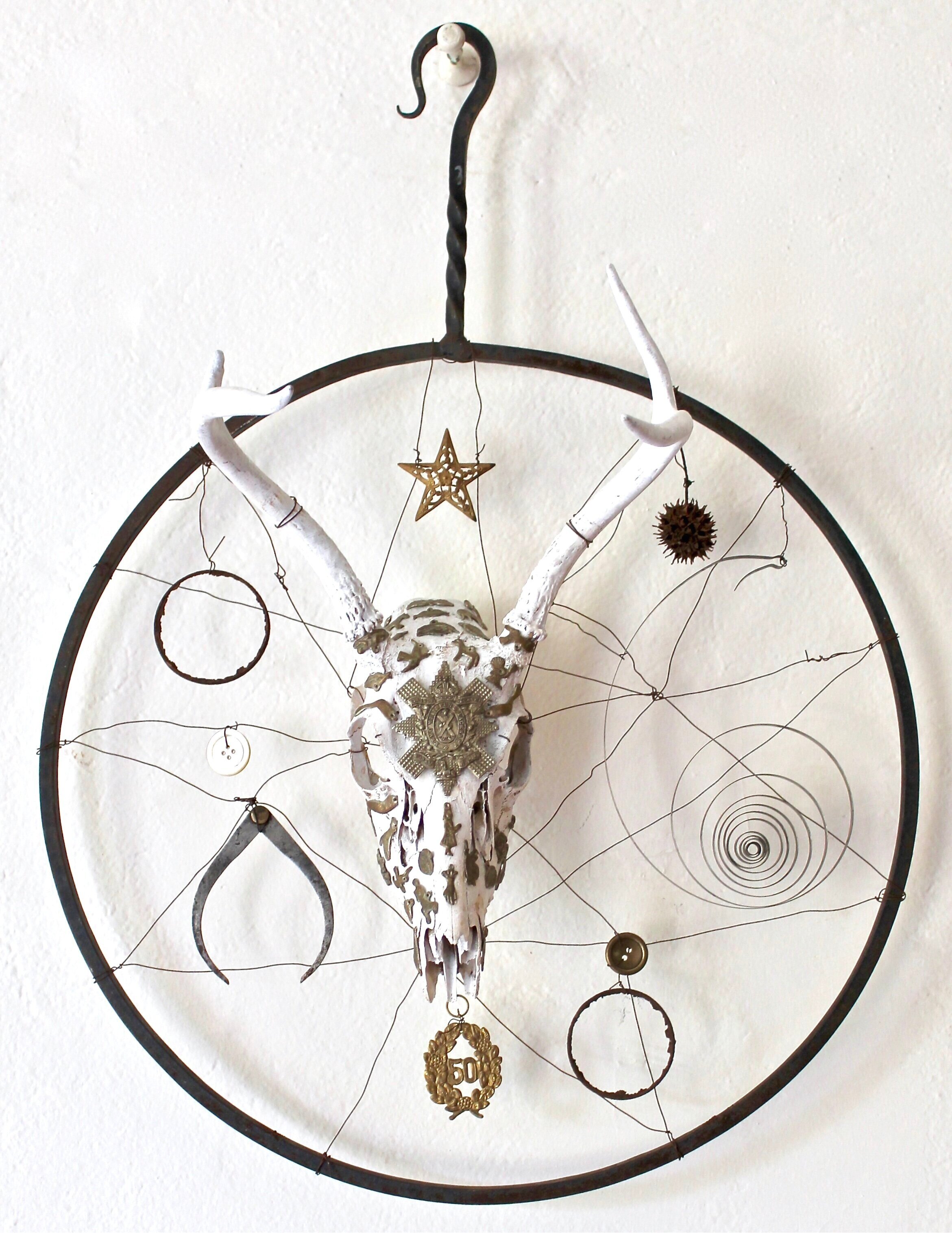 american god
69cm h x 52cm w x 27cm d
Just finished watching season one of American Gods. An interesting premise ruined by bad storytelling. Another unfilmable book?
curtain up
40cm h x 40cm w x 8cm d
I came upon the two engraving blocks to the right of this piece in a market in New England. By strange coincidence they happened to be of two players from a 1960 amateur dramatic group based in Frodsham, about 20 miles away from where I grew up in (Old) England. I think it was their destiny to reappear in my work someday. My mum used to be in the local operatic society around the same time. She'd often come home from rehersals singing showtunes.
divinity
84cm h x 84cm w x 24cm d
This is the biggest sculpture I've attempted to date. It introduces new elements for me, plush toys and their stuffing, padding out the innards of an old fan casing. Various aged objects such as clock parts, cake tins, soap dishes and a central spiral fossil complete the assemblage.
formosus sapientum
31cm h x 28cm w x 40cm d
Three presidents, the middle one LBJ apparently the odd one out amongst the greats of Washington and Lincoln. Randomly, I share the same birthday with him. Maybe we misjudged him. Possibly his cynical pragmatism proved more effective than his predecessor's divisive showmanship.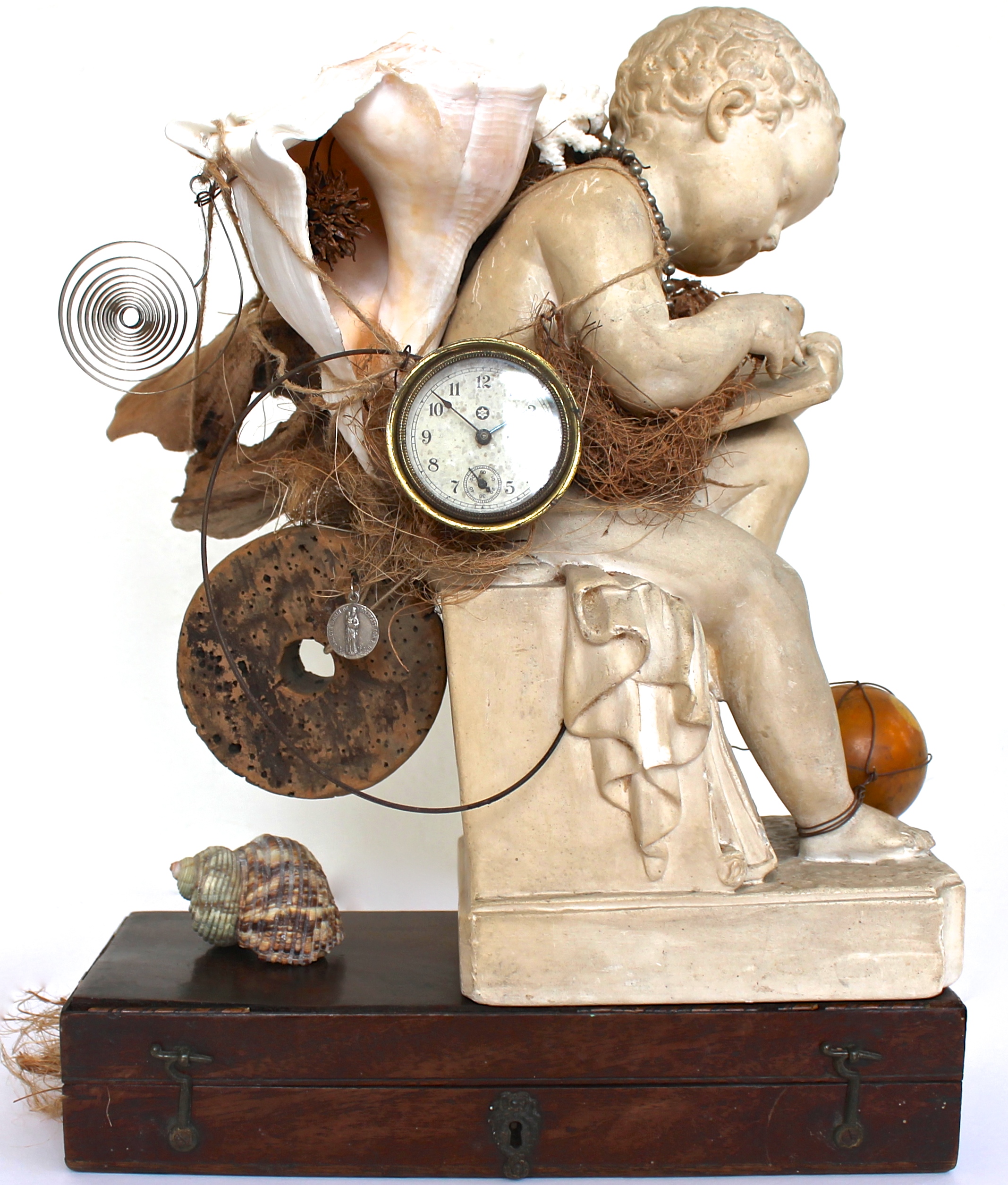 jamais
30cm h x 42cm w x 15cm d
As a child, when asked what I wanted to be when I grew up, I'd always reply "An artist". My skill, as I saw it, was drawing and painting. As the reality of life started to come into focus, I chose to study graphic design at college and randomly ended up making 30 second films for commercials as a career. When that came to an end I chose painting again, my first love. After a year I looked at what I had produced as objectively as I could and decided I wasn't good enough, I disliked my 'touch'. It felt too preplanned and deliberate.
And I moved to sculpture, almost by accident initially. What appealed, then as now, is that by using found objects it's a lot harder to see my 'hand'. The randomness of the process means no two pieces will ever be the same, even if I try my utmost. I'm constantly surprised by the outcome. And that's why it stuck.
This piece comes enclosed in a glass cabinet. The word 'Never' sounds a lot more elegant in French.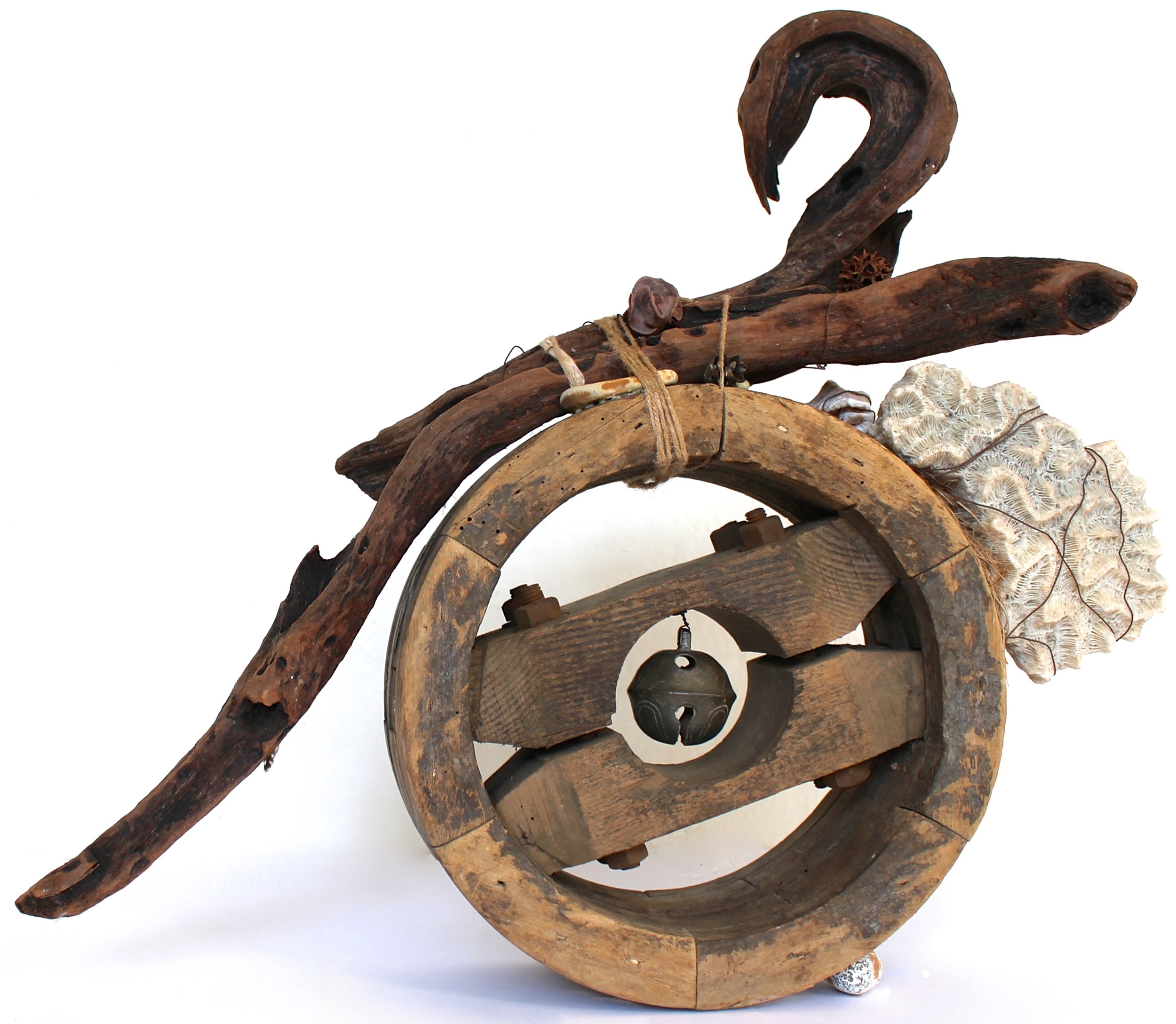 once and future king
45cm h x 50cm w x 10cm d
I've always found it fascinating how my memory works, or more often doesn't. I usually listen to music when I work, and often when I view previous work I get flashbacks to the music I was listening to at the moment of execution. I think I momentarily go into a deep place in the brain and it accesses sounds and once in a while, smells. Not sure if this is common.
For this piece I have a slightly different memory. I was hammering a couple of nails into the wood as my wife was telling me of having to be away for two weeks on a work trip. What would Freud say?
deo, vivo et vero
31cm h x 50cm w x 5cm d
There was a time when most of my work went inside boxes, one way or another. Over time I weaned myself off that approach. Then I came across these three tray/drawers and had to find something for them. I always saw them as a triptych and the way each divided into segments lent itself to individual objects being placed there. It took a while to settle on this mix of elements though, and the moth was the last piece of the jigsaw that held things together. In the end, "nature is the true artist". I just found a way of best presenting it.
journey's end
57cm h x 22cm w x 81cm d
An old baby carriage base with a factory mold above. Twigs are threaded through the mold, a carved wooden elephant rides up top, a cow bell below. It clangs as it rolls along.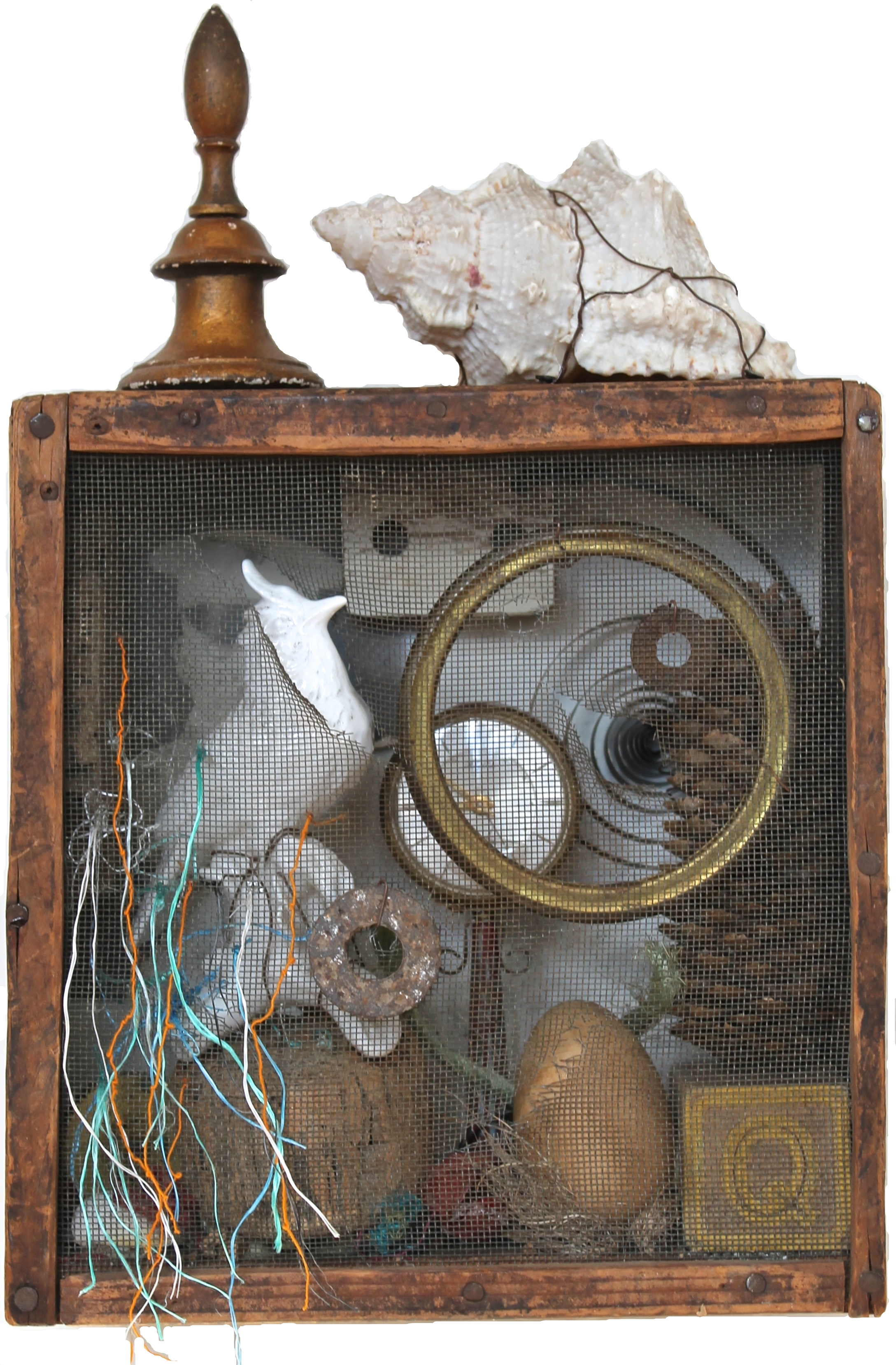 the comfort zone
35cm h x 23cm w x 10cm d
As a rule I like to stay in my comfort zone, as my wife will attest. I am very much a creature of habit. It's a typical Virgo trait I believe. Every now and then I get so frustratingly, colossally bored that I venture out of that zone, even though I fear it.
For this piece, I stayed in the zone. It's stuff in a box again.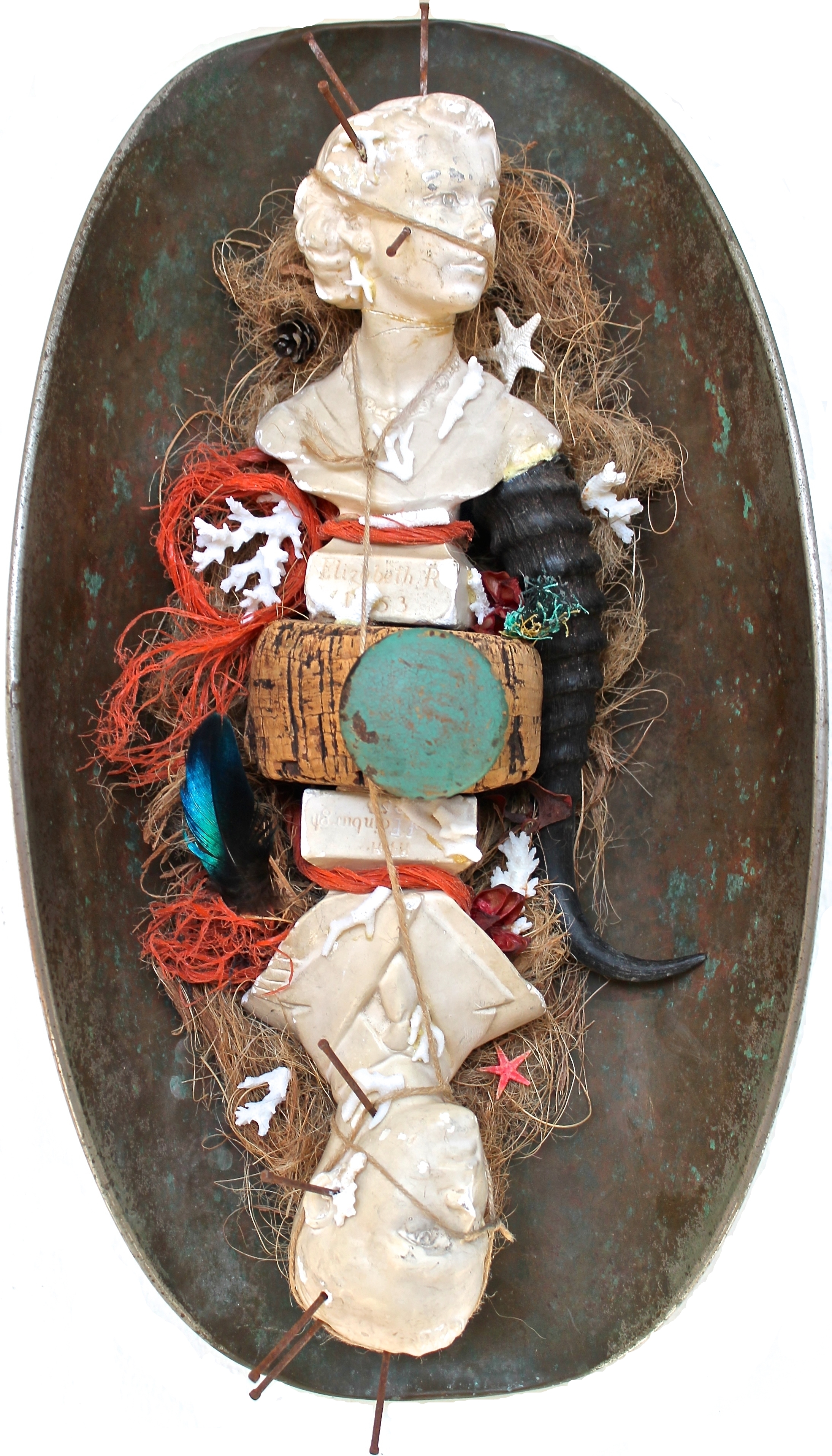 pas de deux
48h cm x 25w cm x 14d cm
It wasn't consciously made this way, but this piece ended up as a comment about marriage. It focuses on two plaster busts of the regents of my country of birth, Great Britain. I had considered making it so you could rotate the work from the centre, 180 degrees. But it didn't feel right when Prince Philip was on top.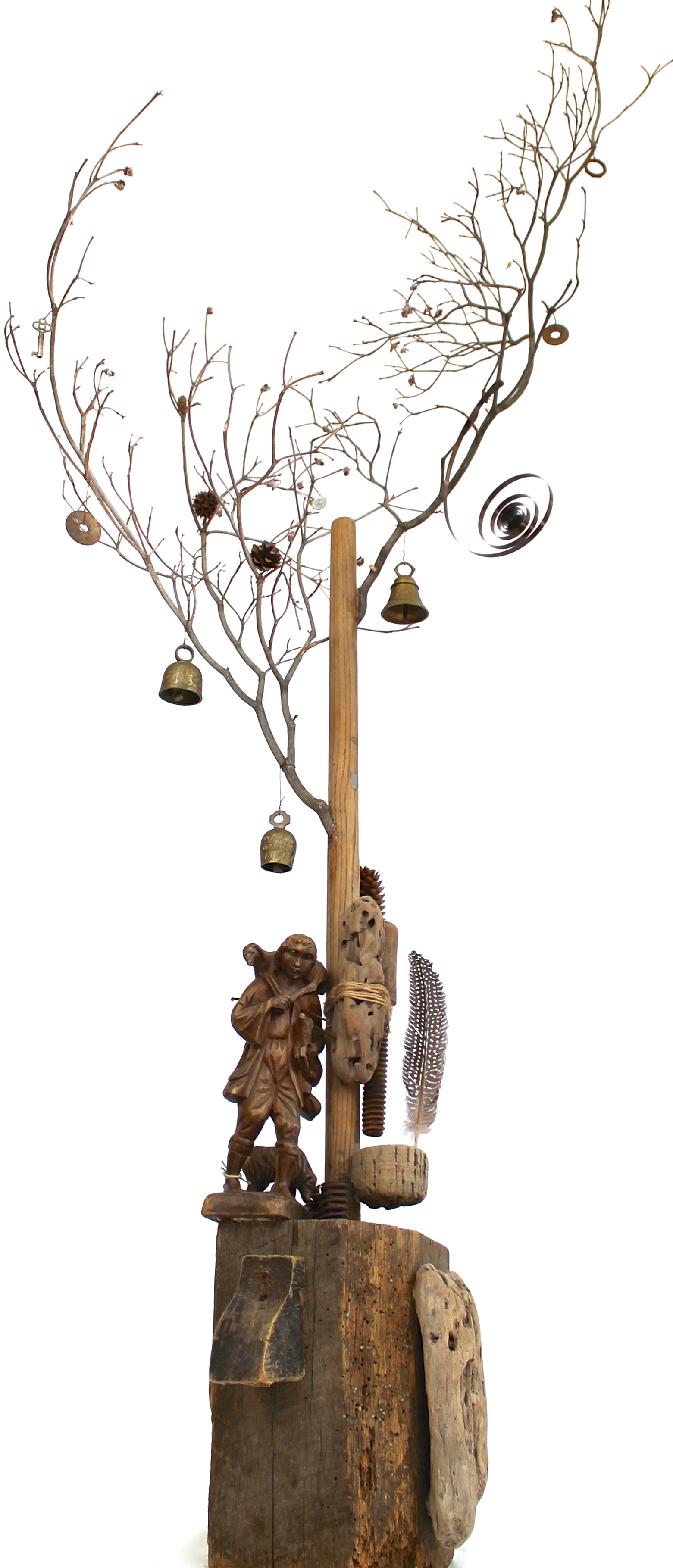 the singing ringing tree
170cm h x 66cm w x 60cm
As a child I saw a truly weird german tv show called 'The Singing Ringing Tree'. It had a princess being harassed by a bear and an evil dwarf and it scared the crap out of me, but I felt compelled to watch. I've tried to recreate those childhood feelings in my work my whole adult life.
This work has nothing to do with the show, although it does resemble a tree and has brass bells on it.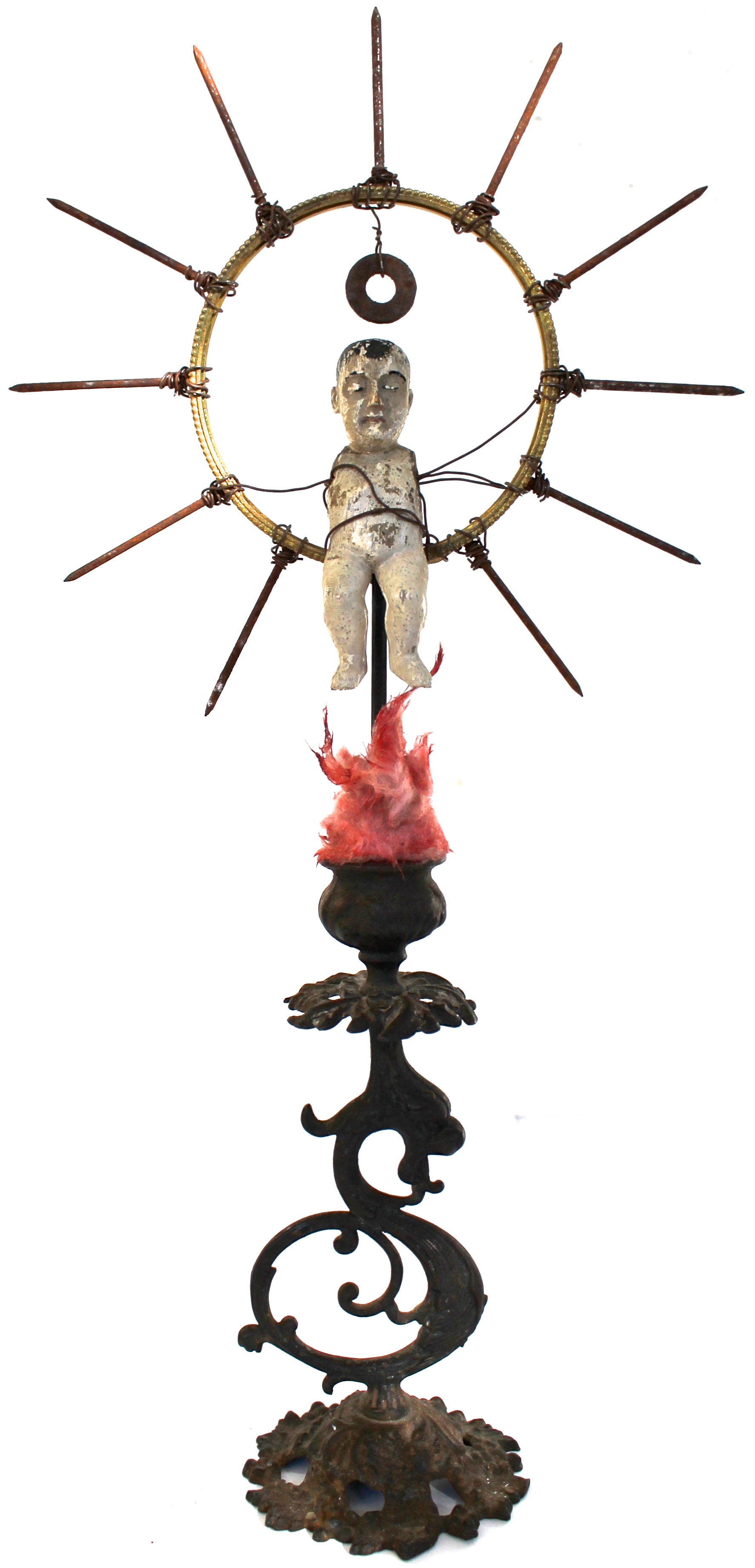 the trials of st. julian
40cm h x 20cm w x 8cm d
This ended up with echoes of a 'monstrance', the vessel used during the service of benediction in the Catholic church. It utilizes rather less holy elements though, a candle holder, a fragment of a clock, rusty nails and a washer. The one precious element is the centerpiece, a vintage, armless wooden carving of a santos.
sejanus
78cm h x 24cm w x 10cm d
I often wonder if happenstance plays a part in the way my art turns out. This one, for example came together when I was reading 'I, Claudius' by Robert Graves. There is a character in it named Sejanus, one of many notorious characters who feature in the book, and who indeed existed around 10AD. This piece took a couple of months to come together, but when it did settle it reminded me of a Roman Standard that led the legionnaires into battle. Plus it had a non-conformist, edgy quality, not unlike Sejanus himself.
unlimited capacity for love
17cm h x 34cm w x 26cm d
This work is atypical, in that little of it is properly 'fixed'. Rather it tends to loosely 'hang together'. It felt right for the materials.
Also atypically, it directly references and is inspired by another artist's work, namely Anthony Caro. He made a series of books made of ceramic and steel that I was very impressed by. Of course try as I might I couldn't replicate them, but they certainly set me on a path.
golgotha
54cm h x 16cm w x 78cm d
The iconic image of the elephant carrying objects on it's back (castles, tents, worlds, etc.) is one that dates back hundreds of years. This is my take on it. This elephant is made of plaster of paris, a very sturdy base to build upon. The overlapping wheels are a wooden foundry mold and a wire hose holder. Into these are woven a variety of smaller found objects, shells, sponges, washers, medals, sticks, a clock spring and a snooker ball.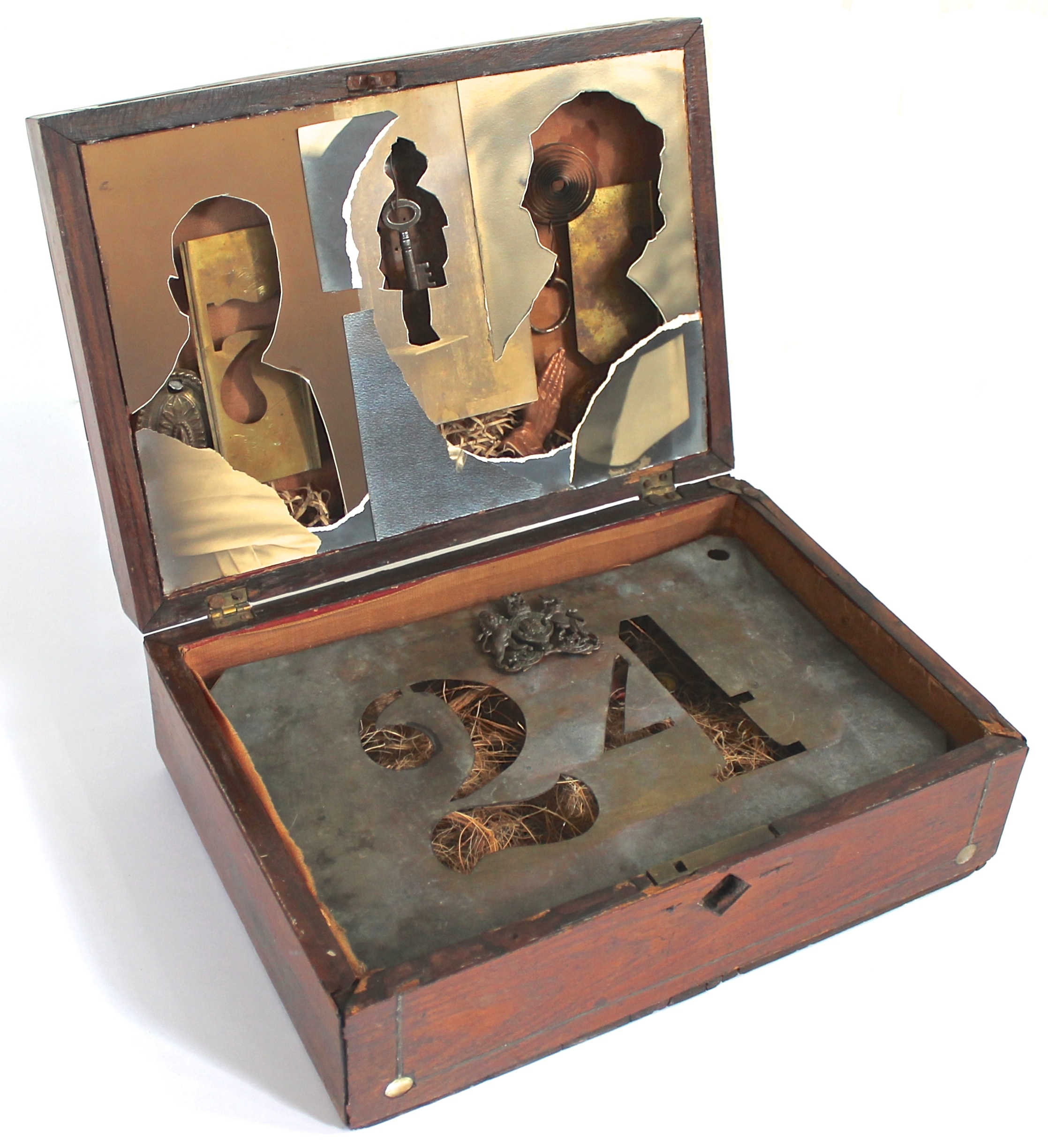 24/7
27cm h x 28cm w x 28cm d
Sometimes things just work out. I'd had the jewelry box for a few years, bought in London. Then I recently came upon the '24' stencil in Philly and the dimensions were exactly the same as the box, so they had to live together. Everything followed from that. It looked best when raised slightly from the base, and a simple coconut fibre underneath helped the numbers to read well and add a texture. The top half of the box took a lot longer to figure out. The photographs were from the 1920's, they still held their shape as man, woman and child even as cut-out silhouettes due to the thickness of the paper. Behind them came a variety of elements that complemented the color scheme and themes. The 'No.7' stencil added a possible narrative to the whole.
aikea-guinea
38cm h x 60cm w x 90cm d
I'm certainly no technician but my approach to binding my elements together has improved over the years. I trust wire and nails a lot more than glue now. The fixing sometimes dictates how the pieces of the puzzle sit together.
In general I tend to prefer art that has some technique to it, some craftsmanship. There's something honest about it. Not only can you see the joins, it boasts of them.
cruciform
66cm h x 38cm w x 17cm d
An assemblage piece with a clear religious motif. The rusty wire framework is a discarded trap for small animals, possibly raccoons, found in Pennsylvania. The ends of it are refashioned to create the horizontal bars. The metal base is a crude tin toast rack from the '50's. Within this structure sits a variety of objects from nature; a conch shell, stones, driftwood, feathers, fir cones, charred wood etc, all tied up with thin rusty wire. Also inside are a small statue of St.Peter carrying the infant Jesus, remnants of clocks and religious medals to add to the eclectic mix of found objects.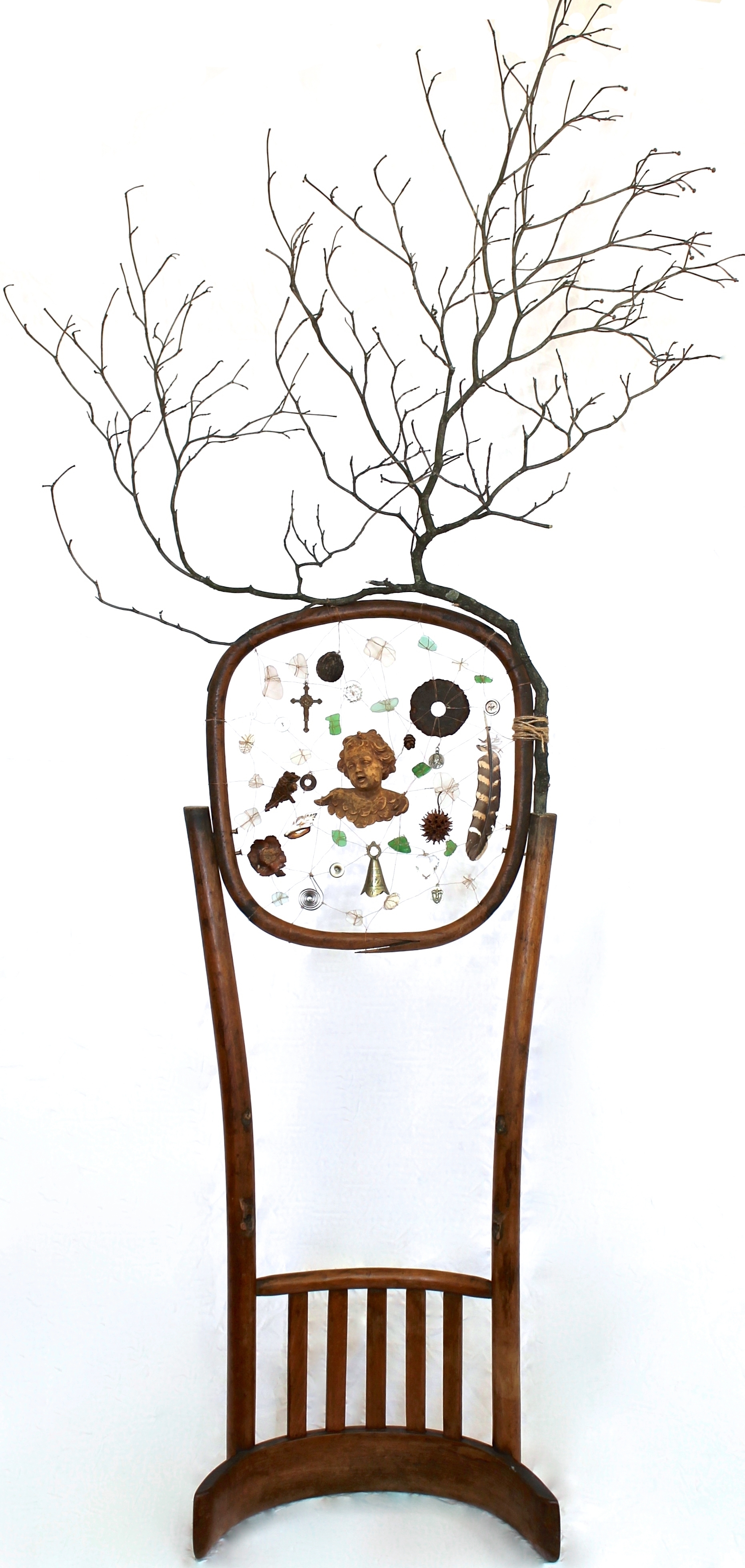 resurrection
180cm h x 36cm w x 24cm d
The starting point of this piece was a chair, a former prop on a Jack Lemmon film apparently. Who knows what rich and varied life it had lived before then. When it came into my hands I hoped the genius of Jack would rub off on me somehow, via my posterior. After two years of sitting on it my massive girth crushed the chair flat. I felt I owed that chair a rebirth.
Around about the same time there was a mini storm that brought down a huge pine tree in the garden, missing me by twenty feet but taking out a smaller tree in the process. Again I felt bad for the smaller tree (it had waited all year to blossom again) and I salvaged a small branch. I reintroduced the chair to it's pre-history, the branch. It seemed like they had always known each other.
Within this framing device I hung a selection of small items strung together in a web of thin copper wire; a wooden seraphim, rusty washers, a brass bell, a feather, religious medals, buttons, ocean-worn glass. Looks good backlit by the sun.
I'm not particularly reflective by nature, but it makes me think that no thing is truly dead, they just find another form when the old form has outlived it's usefulness.
always a woman
51cm h x 16cm w x 4cm d
She can kill with a smile
She can wound with her eyes
She can ruin your faith with her casual lies
And she only reveals what she wants you to see
She hides like a child
But she's always a woman to me
She will promise you more
Than the Garden of Eden
Then she'll carelessly cut you
And laugh while you're bleedin'
But she'll bring out the best
And the worst you can be
Blame it all on yourself
Cause she's always a woman to me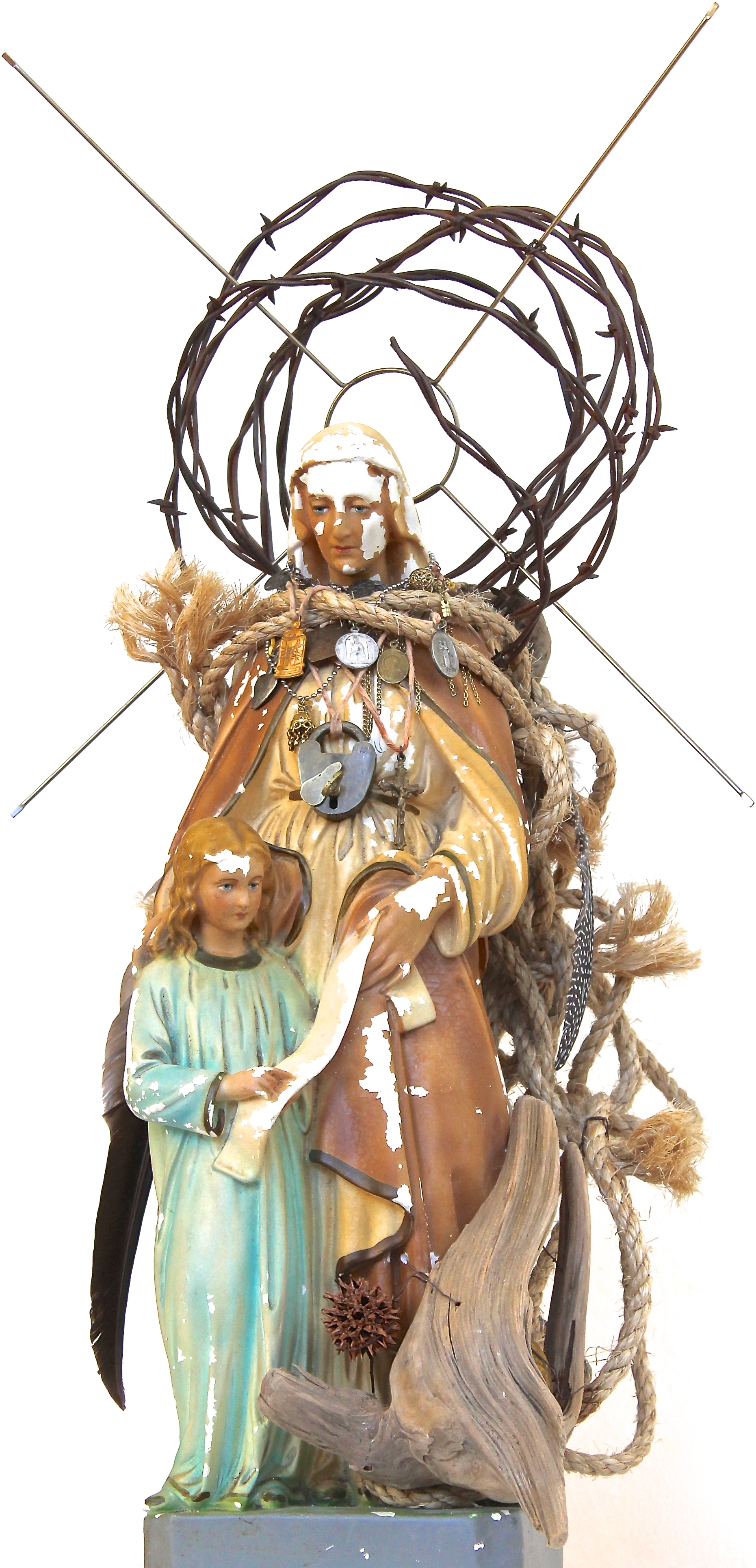 gift of love
67cm h x 37cm w x 27cm d
I was born Catholic, although I was always pretty lapsed from day one really. And yet somehow so much of my art is informed by religious themes, not sure why. I've always loved the imagery even if I haven't bought into the ethos.
I've effectively gilded the starting point of this piece, a plaster Jesus and Mary statuette. It lends it a lot more baggage for Mary to carry, sea-worn wood, rope, feathers, religious medals, a padlock with a key, a barbed wire halo. I have the view that Mary's son was a great burden to her during her life on earth. He certainly had a lot of making up to do in the afterlife.
the days of wine and roses
67cm h x 42cm w x 3cm d
The photographs are from the 20's and 30's and I acquired them in one batch, so I'm guessing the people were all related. Some of images are of the same people at different stages of their life. The lady with round glasses reminded me of my own paternal grandmother, she looked similar at that age. I found it very poignant. It made me contemplate the nature of a life lived.
Once the frame was found the form was established for the piece, although the process of stitching the photos together with wire took forever, it was tricky.
show & tell
60cm h x 30cm w x 50cm d
The colander came first, from a local flea market. Like most objects I come across, I'd no idea what to do with it but it had a form and texture about it that pleased my eye. Then it lived in a box for three years and I struggled to refind the love for it. Maybe I'd made a mistake. It happens. The two wood pieces and blue fishing rope were flotsam and jetsam I'd found on a recent beach vacation in Mexico. Individually they had interesting shapes so I kept them. The sponge was via a shop in New England from two years ago, it lived a life of shelf decoration in my house before this. The metal hoop was I found outside whilst walking the dog. A car must have hit a pothole and lost a hub cap.
But the clincher, the thing that held all these items together was the metal cupid garden statue. That I found a few months ago in a reclaim yard in New Jersey, sitting in the corner of a shed behind a group of chairs. I knew could be a focal piece for something. As with all the other objects it looked a little unloved, with obvious signs of having lived a life.
Within two or three days of throwing various objects at it I settled on what it is now. For me that is unusually fast. And the end result worried me as it was noticeably fewer objects than the norm. So I let it sit for while. I liked it, a lot, but it felt too easy, I hadn't struggled enough. So I let it sit a bit longer. Three months it sat. And by then I could see it with fresh eyes again and say 'Yes, it's done. My first instincts were correct. I can't do it better, it is what it is.' I fixed the objects with thin rusty metal wire and a couple of different glues and walked away. The title I picked as my four year old son is obsessed with show and tell at school at the moment. It seemed to fit.
prima oratorio
36cm h x 22cm w x 5cm d
Sometimes I don't have to try and the work falls into place itself, like it did here. I was working on something else and various components landed in a certain arrangement on the workbench. And there it was, pretty much. All I had to do was figure a way of attaching the elements, mostly with wire. It's as close as I've come to a 3-d sketch.
archangel
49cm h x 12cm w x 11cm d
This is effectively a shrine. The box is an old drawer, the wooden Madonna icon is dissected into three parts and coral inserted into the joins. The whole is surrounded by fibres. Rusty nails protrude from the top like light rays, three bells hang from the bottom. On the two sides hang religious banners/badges from Poland bearing the words Michala Arch (for the order of the Archangel St. Michael). They are similar but different to each other.
blinded by the light
48cm h x 29cm w cm x 15cm d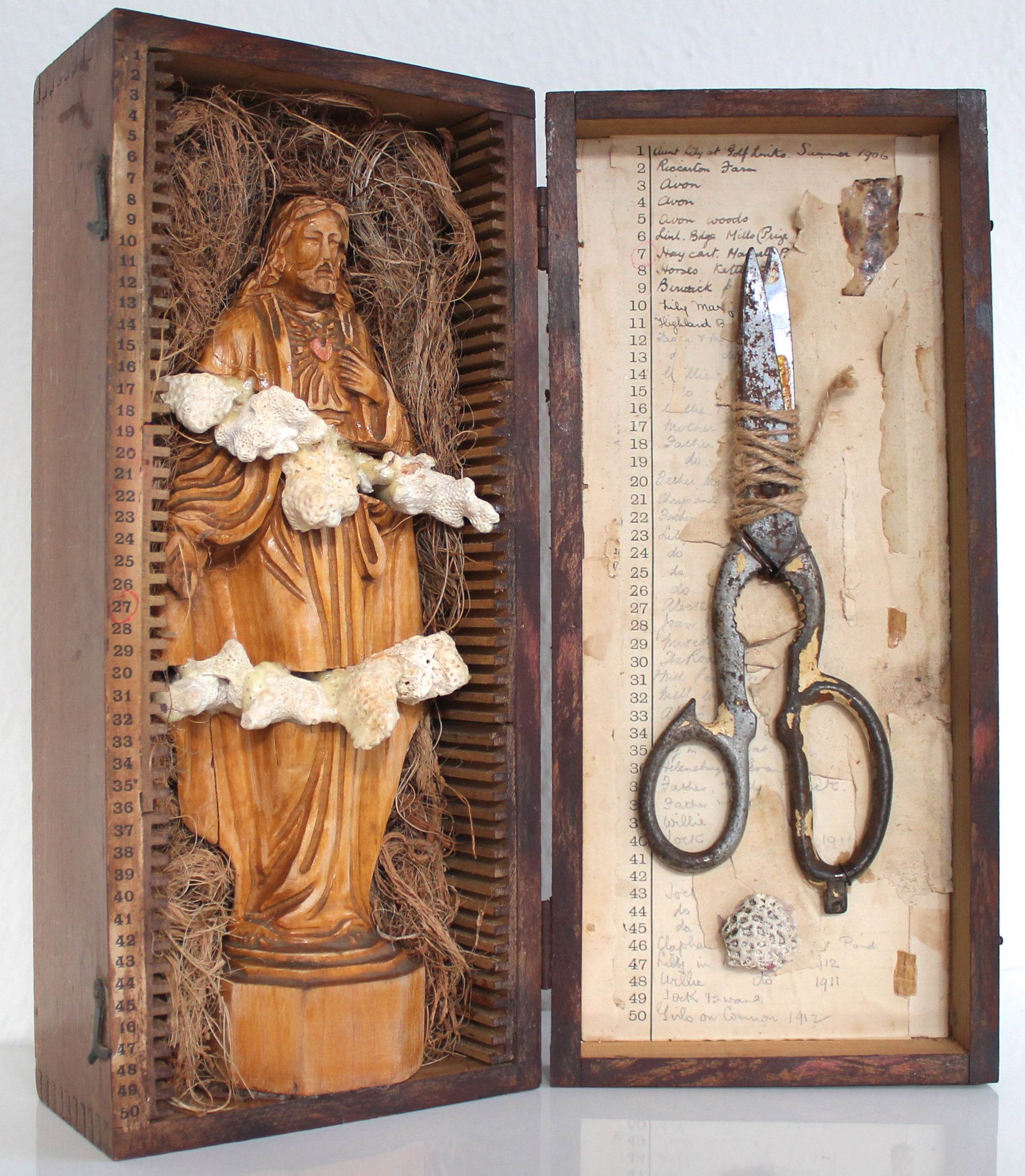 father, father
30cm h x 28cm w x 75cm d
As a rule I purposefully try to make each work different from the last, although certain themes and elements remain a constant. I'm not one of those artists that can make the same image over and over. I'd bore myself, and others.
This one was an exception, created in part-response to another work I'd made called 'Archangel', that involved a trisected Virgin Mary. This box and the scissors added another dimension to make it worth pursuing.
face to face
40cm h x 37cm w x 8cm d
I don't do many collages these days but I used to do plenty in my early days as an illustrator just out of college. This frame inspired me to reenter that world, this time without a restricting brief and a client to please. The face gave me a solid, centered starting point to riff off. The flowers in the wallpaper are from the walls of my rundown attic, the birds are from a Victorian book of etchings.
bird in hand
30cm h x 25cm w x 3cm d
There are some interesting place names near where I live in Pennsylvania, and one of them is a town called Bird-In-Hand, in Amish country. By chance the hand and bird in this piece were also found around there. They seemed destined to be together.
the guide
55cm h x 24cm w x 21cm d
This assemblage started from the top down. The doll's head was always going to be the focal point for something. The bound sticks lent it legs, and around that I bound other found objects such as fir cones, religious medals and general bric-a-brac. The end result looked surprisingly african in nature, like a voodoo doll.
premiere communion
31cm h x 16cm w x 3cm d
Many years ago as an art student I was in the Greek islands and came upon a graveyard. I was particularly struck by the fact that each tomb had a personal shrine to the dead relative at the head of it, often using photos and everyday objects personal to the deceased, enclosed in a glass box. It was profound and moving. Over time they passed from my memory, but I think something must have stuck in my sub-conscious. I see elements of it in my work now, so many of them seem to be shrines of one sort or another.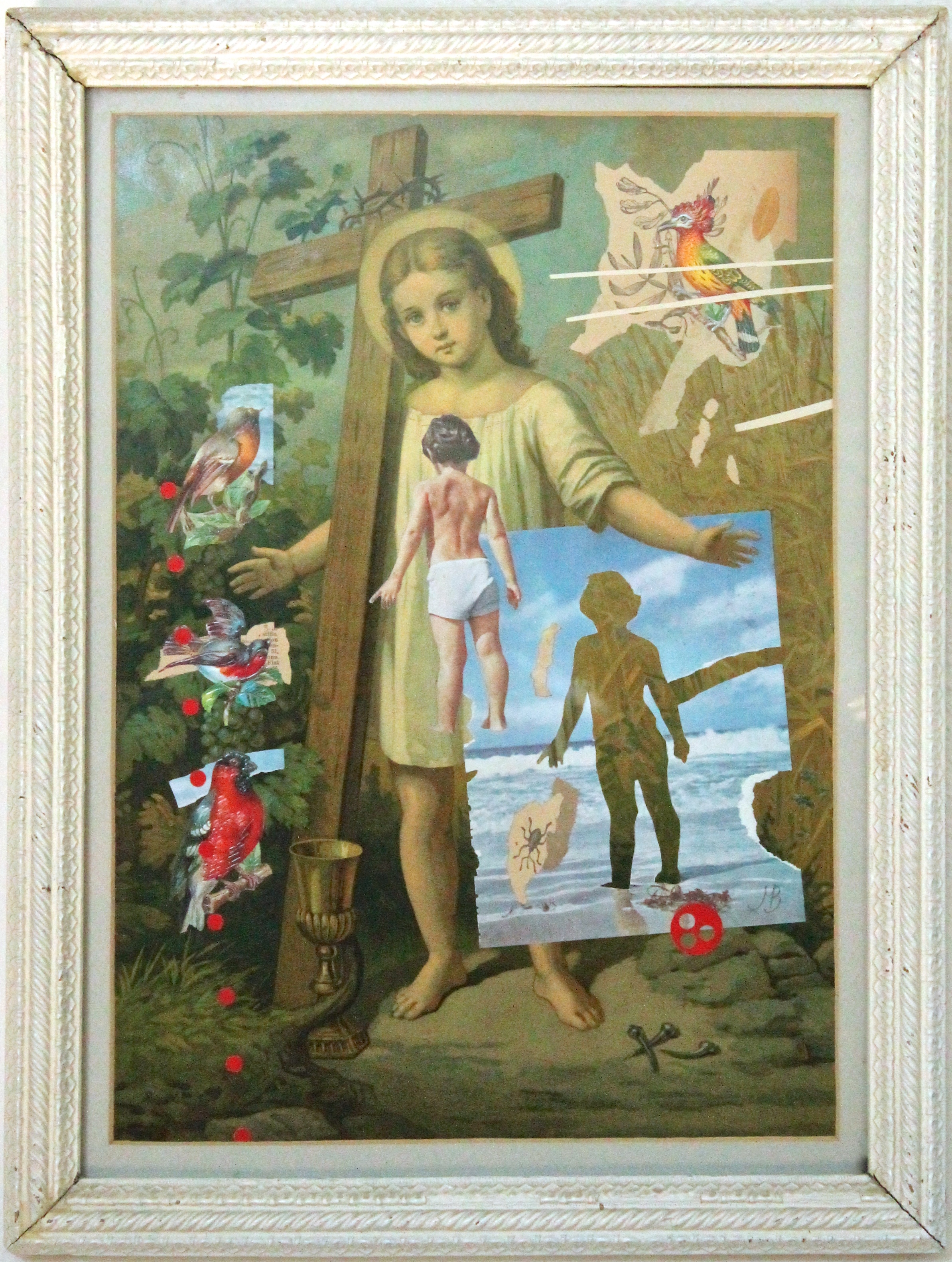 she shall have music
50cm h x 38cm w x 20cm d
There is a game designed by Brian Eno, the musician, called Oblique Strategies. It is a series of cards that helps you make creative decisions when stuck in a rut. One card reads" Honor thy error as a hidden intention". That aphorism seemed appropriate for how this piece evolved.
The porcelain hand I'd had for over 20 years, wondering what to do with it. When it came to joining these elements together the hand fell to the floor and shattered. At first I was gutted, but when I saw all the pieces still fitted together I re-glued them and the hand reappeared. Somehow it's imperfection made it perfect for the piece. It was too clean before.
tree of life
40cm h x 25cm w x 12cm d
I am fascinated by the contrasts and similarities of nature and household objects. The starting point for this piece was the base, a candleholder. It's Victorian maker showed great artistry in mimicking leaves and foliage in the metal. Time had seen it discarded and unused. I saw it's beauty and tried to breath new life into it. The sea fan coral I had for many years previously and it seemed the perfect echo for it in color and shape. The delicacy of it contrasted beautifully with the rusty wrought metal. Onto that framework I hung simple, complimentary objects such as rusty keys, old washers, religious medals and Civil War tintypes of a young man and woman. In real life these two people had never met. In this assemblage they become the focal point and I imagine them married.
work
new assemblage art by mike bennion